Club History
Based in Upper Holloway (N19), Islington Boxing Club provides boxing sessions for the whole community, ranging from Competitive Boxing Classes, Beginners Academy Classes, Infants Classes for boys & girls between 5-8 years old and Recreational Keep Fit sessions.
The club especially look for and encourage young people to attend, giving them a focus, showing them discipline and teaching camaraderie. IBC cater for serious boxers who want to compete as well as recreational who can enjoy the same rigorous workouts without the full contact combat. IBC has also started working with local schools that train at the club as well as other boxing themed activities such as Chess Boxing.
In the next few years we hope to redevelop the site with a purpose-built new gym and community area for local use. Islington Council have granted the club a 25-year lease and upon completion of the project, the lease will extend a further 99 years.
At the end of 2019, the club had a total of 956 Competitive/Academy Boxing Members, 521 Recreational Members, 947 Recreational Non-Members & 90 Infants Members.
The club is in use 7 days a week. There is no doubt that Islington Boxing Club is one of the most popular boxing clubs in the UK and its growing reputation at home and overseas is increasing as each year passes.
The club is a registered charity. Any donations made to the club are greatly received and can be either be made by cheque payable to 'Islington Community Sports Academy' or online using the following link https://www.justgiving.com/islingtonboxingclub
The Early Years

Islington Boxing Club was first founded and known as 'Kings Cross Amateur Boxing Club' in January 1974. The club was based in the community hall of York Way Court, close to Kings Cross Station.
Founder members included: Local publican and former boxer, Reg Topper, who volunteered as a trainer and fundraiser. Beat policeman, Bill McCourt, acted as Honorary Secretary. Railway man Jim Parodi, was club treasurer.
They were backed by a willing group of trainers and helpers who were all intent on getting the club established and hoping to rid the area of increasing vandalism by bored local youngsters in a deprived environment. The team consisted of Wally White, Brian Wigger, George Barrow, Joe Annerson, Ron Hagland, John Roberts, Terry Emberson and others.
Sadly, within 6 months, Reg Topper died of a heart attack and Bill McCourt moved on due to promotion in his police career, so Ron Hagland took the roles of honorary secretary and fund-raiser.
Within 2 years the club's expansion required larger premises and they quickly outgrew the estate hall moving first briefly to the former York Way School and then the Michael Sobell Sports Centre in 1976 to accommodate the increasing membership popularity. The club was now operating 6 days a week.
It was then considered appropriate to re-name the club and it then became known as 'Islington Boys' Club'. As the expansion of the club grew, the search was on for their own premises that would attract some borough funding.
The move to Hazellville Road, N19
In 1981, the very supportive Mayor of Islington suggested the possibility of using the site offices of the Bovis Construction Company on the Elthorne Park site in Hazellville Road, N19.
After a meeting with the Bovis Director, it was agreed that as the building of the Elthorne Park Estate was complete, Bovis no longer required the use of the site offices and were prepared to agree the sale of the building for £50.00 to Islington Boys' Club, subject to Council Planning Permission.
The next challenge was to seek Town Hall permission for the building's 'change of use' and after many meetings and extensive negotiations, permission was granted. During this transition period there were some more sad losses as Wally White passed on and some of the club's helpers were unable to follow the relocation to the northern end of the borough.
Administrative help had always been in short supply and in April 1983 the club suffered another sad loss with the passing of dedicated member Jim Parodi that left Ron Hagland to pick up the role of club treasurer.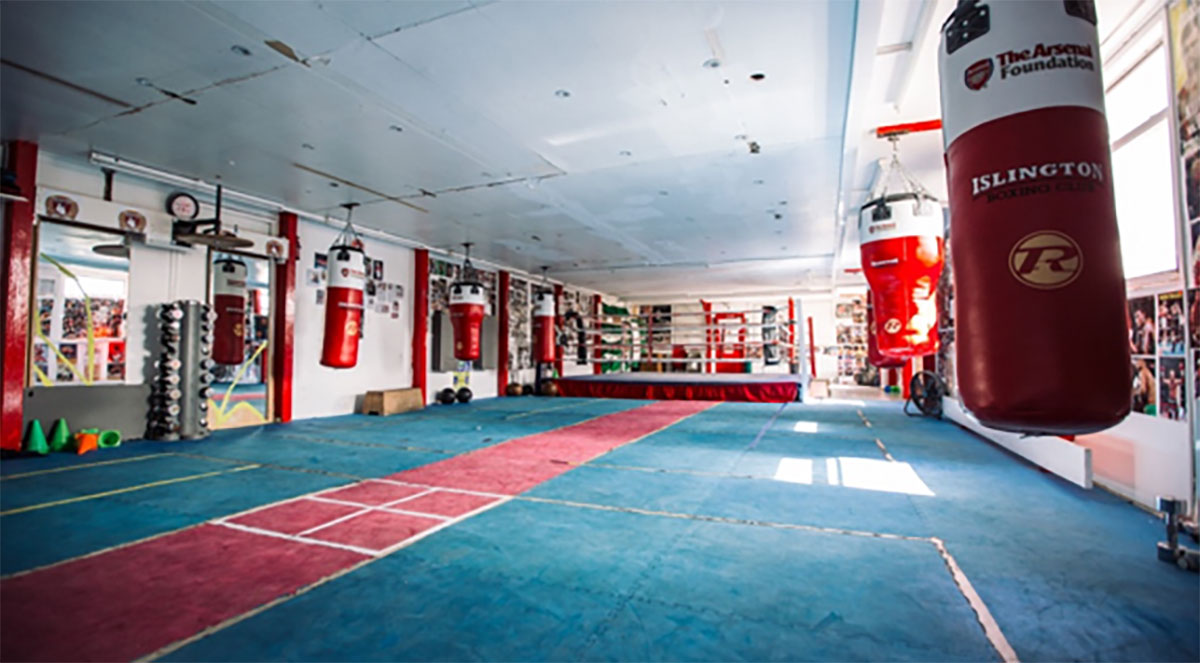 Frankie Vaughan, then vice-president of the National Association of Boys' Clubs (N.A.B.C.), formally opened the club's new home on the 17th February 1984 & there was much appreciated financial help from: The Joseph Levy Charitable Foundation, The Variety Club of Great Britain, Bovis Construction Ltd, the ILEA, Federation of London Youth Clubs plus many kind personal friends who had supported the club along the way. The club was converted and decorated internally in the club's (Arsenal) colours of red and white and furnished with a comprehensive array of equipment to make it a truly traditional boxing gym.
The first 8 years were totally self-financed but, since then, Islington Council has assisted with a small annual grant to pay for the peppercorn rent of the club building. The majority of our funding still comes from our own efforts and the appreciation of our many friends and supporters. To this day, the club is still based in Hazellville Road and recently secured a long-term lease on the land in which the current club gym sits on, we are hopeful of a major redevelopment in the next few years.
Ron Hagland for many years carried the club forward with the aid of many friends and associates. He retired in October 2000 and sold up his Drive Inn Scrap Metal business in Stoke Newington and moved out of London with his wife, Maureen, to live in Frinton-On- Sea, Essex.
When possible, Ron still visited the club for the odd committee meeting and home club shows. Some say that Ron never did retire! In July 2016, Ron resigned as the Hon. Sec. of Islington Boxing Club due to ill health and the role was passed onto his son, Lenny. Ron was named as Hon. Life Vice President and was still involved with the club until his passing in March 2018.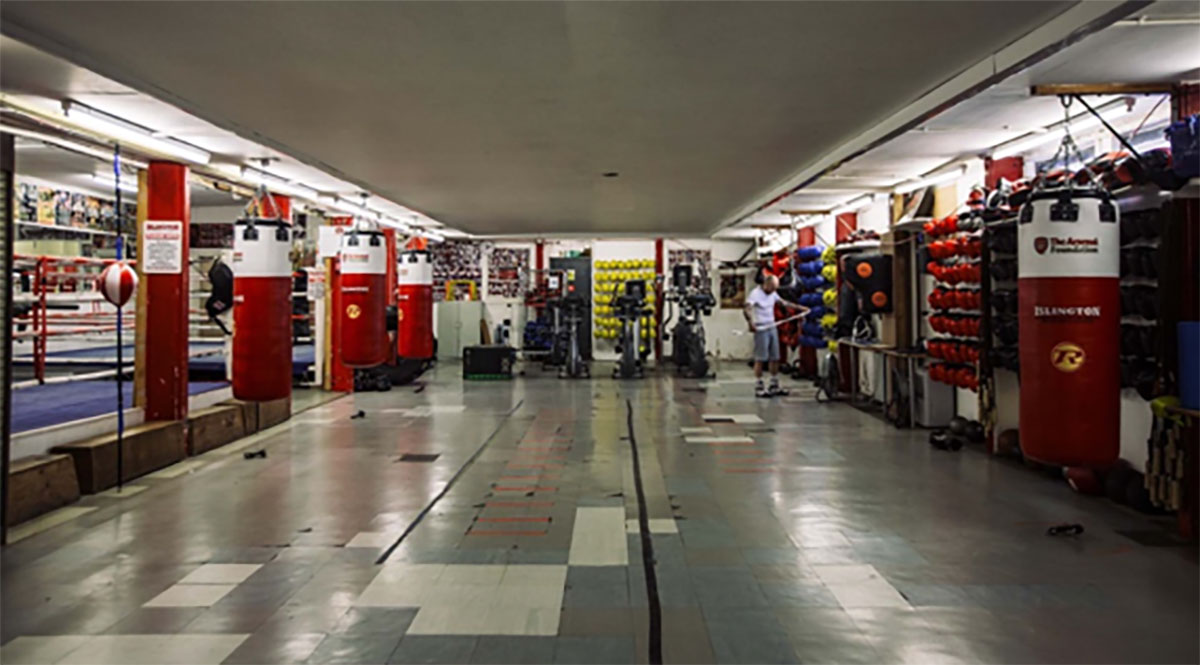 In 2010, Lenny Hagland returned to IBC and became the day-to-day manager of the club; Lenny was one of the members of the club, starting out at the age of 9, in 1974 and hung up his gloves at the age of 22. Lenny boxed a total of 66 times and represented Young England and London – after winning titles in the NABC's and Junior ABA's.
Lenny has since held the roles of Club Coach, Matchmaker, Club Manager, Chairman, Welfare Officer, Development Officer, Hon. Secretary and CEO during his time at the club. There isn't much that Lenny doesn't know or hasn't done in boxing! Outside of his current roles at the club as Hon. Sec. & CEO, he is the Chairman of London Boxing and an England Boxing official.
Lenny's son, Reggie also became heavily involved with the club, initially as an associated member for many years before becoming a co-operated member of the club committee 10 years ago. He later became the Media & PR officer and later the Competition Secretary. Like Lenny, Reggie is an England Boxing official and holds the role of Medical Registrar for London Boxing and on the odd occasion Matchmaker for the region.
Islington Boxing Champions
Islington has over the years produced many champions, Divisional (NW London & Middlesex), London, National and International Boxers.
* The earlier history of the club champions is harder to come by and our apologies to any we may have missed, we try to update our content on a regular basis.
The early and mid 1980's were a fine period for the club. In 1985 John Beckles became Islington's first Senior ABA champion when he won the Light-Heavyweight title. A month after winning the ABA's in 1985, Beckles boxed for England in the European Championships and won a Bronze medal in Budapest. There was progress in defence of his ABA title in 1986 until he lost out in the then English Semi Finals, but there was a 2nd title the following year after Beckles had moved onto Fairbairn House ABC. Previous attempts in 1983 (for New Enterprise ABC) and in 1984 (for Islington BC) had failed.
Metropolitan Policeman, Mervyn Stevens won a World Police title at Light-Heavyweight and a European Police Crown at Heavyweight. Stevens also boxed for Islington as a Middleweight.
British Transport Policeman, Guy Williamson won Super-Heavyweight titles in the 1984 'Police Olympics' and the 1985 World Police championships. Williamson also won an ABA title in 1985 at Super-Heavyweight in the colours of Fitzroy Lodge ABC.
From 1983-1989, the club also produced a number of Senior North-West London Divisional ABA Champions including Noel Alleyne, Tony Cumberpatch, Danny Hoy and Joe Woods, but there was no progress beyond the 'London's'.
Michael Scott won the first of his hat trick NABC titles in 1988. He was a Junior ABA finalist and boxed once for Young England against the United States. As a senior 'Scotty' won the NW London Divisional title at Light-Middleweight (U71kgs) in 1991 but his ABA bid did not progress out of London. Injury perverted Michael to box for over a year. Scott returned to box in 1993, he won for the 2nd time the Divisional title and won the Senior London ABA's for the first and only time, he lost out in the National Semi Finals. Attempts of winning the National ABA's in 1994 and 1995 didn't go beyond the Divisional rounds, he returned to box in 1999 and won the NW London 'Divs' but lost out in the London finals before his permanent retirement.
Alongside Michael Scott, there were then a turn of Islington juniors that come to the fore. Danny Oliver won Junior ABA and NABC crowns in 1989 and 1990 respectively. Mark Mbachu became an NABC Champion (@ U81kgs, Class C) and Ryan Cummings won a Junior ABA title just for good measure in 1990.  The successful and talented team of junior boxers to represent IBC also consisted of Stuart Green (Junior ABA & Schoolboy champion), John Gallagher (Junior ABA & NABC champion), Martin Gallagher (Schools Champion) and others.
Courtney Fry won an NABC title in 1993 (U81kgs, Class C), a first of many championships. Fry won the clubs 2nd Senior ABA Light-Heavyweight championship in 1996. Fry was also a regular England International who went onto box in the Olympic games in Sydney in 2000 along with Audley Harrison; Harrison was also a member of the IBC in the mid 90's and won a London ABA title with the club in 1995.
Harrison and Fry both moved onto Repton ABC where they both won Commonwealth Gold Medals in 1998 and they both won 2 ABA titles each (Harrison won in 1997 & '98, Fry won in '98 with Repton & 2001 with Salisbury ABC). Harrison won the Super-Heavyweight Olympic gold medal whilst Fry lost in the opening round of the competition. In honour of Courtney's achievements in amateur boxing, the club named the 'Best Senior Newcomer' award after him and the trophy been handed out annually since 2010 at prize giving events.
Butch Lesley won the 'North Wests' three times from 1993 to 1995. Mark 'Bartman' Alexander won them at flyweight (1994) and bantamweight (1995) reaching the National Semi Finals. Anthony Neunie won the Welterweight divisional title in 1995.
Other NW London Champions and London Finalists include, James Woodward, Carlos Moreno, Reece Shagourie, Darren Ballinger and Aarron Morgan.
Aarron Morgan (75kgs) won a London ABA title and reached the National Semi Finals in 2012 which was his first attempt in the championships.
Tommy 'The Tank' Kerrigan won the Junior Cadets (U80kg) in 2015, he only boxed once at the National 1⁄4 Final stages as others suddenly withdrew from the championships prior to the finals. Unlike the year before when Tommy was left heartbroken when his opponent in the straight National Schools Final withdrew on the day of the finals despite weighing in and passing the doctor.
In April 2019, the club had 2 National Elite Champions crowned at the National Elite Amateur Boxing Championship Finals with Masood Abdullah (U60kgs – Lightweight) becoming the clubs first male senior elite champion since Courtney Fry. And Jem Campbell (U69kgs – Welterweight) was our other winner who carries on a recent run of female national champions throughout the past 7 years.
IBC International Boxers
Islington Boxing Club has also had many international reps from different counties including England, Ireland, Jamaica, Barbados, St Lucia, Dominica to name a few.
England reps from IBC have included Courtney Fry, Mark Alexander, John Beckles, Darren Ballinger, Cherrelle Brown, Daniel Dubois, Mason Smith, Jerome Campbell and others. Masood Abdullah and Jem Campbell both represented England in the 2019 Three Nations Championships both winning on their debuts for the Three Lions and becoming British Champions.
Former London ABA Champion and National Semi Finalist, Reece Shagourie represented Jamaica in various international shows and tournaments including, the Pan-Am games, World Amateur Boxing Championships and the 2010 Commonwealth games.
Ryan Charles was the Captain of the St Lucian national boxing team and competed for his country at tournaments that included Olympic trails and various AIBA championships. Charles boxed at Cruiserweight (U86kgs) when he competed for Islington but for St Lucia boxed mainly at Heavyweight (U91kgs) and in his last contest as an amateur competed at Light Heavyweight (U81kgs) in the 2014 Commonwealth Games in Scotland.
Valerian Spicer represented Dominica and also took part in the Commonwealth Games in 2014 and various other international tournaments during her time with the club.
Amy Broadhurst has competed for Ireland in various international tournaments at Junior, Youth and Senior level, she is an 20x Irish Champion and x3 European Championship Gold Medallist and 1x World Amateur Champion.
Shaun Thomas has for the last few years travelled to England from home country, Australia, to help further his amateur boxing career and box more regularly which he became a London Elite Champion in 2018. Fellow Collingwood BC teammate, Jason Mallia also boxed for Islington was a multiple Australian National Champion and has represented the Aussie's at the AIBA World Championships in 2019, he has since turned professional.
Here come the girls!
Islington Boys' Club was no longer a name that fitted the club into the 21st century and we're now more commonly known as 'Islington Boxing Club'. The fact that we welcome women into the 'noble art' and females also represent the club in amateur boxing contests, the 'Boys' Club' tag was no longer a correct title to associate ourselves with anymore.
Sara Knieper was the first female boxer to represent Islington Boxing Club when she participated in the Haringey Box Cup in June 2010; she won a gold medal in a straight U67kg final. Sara also won another gold medal in 2011 and a silver medal in her last bout for the club in 2012.
Stephanie Louis-Fernand became the clubs first female National ABA champion when she won the Class C (Under 5 bouts) U67kgs title in 2011 in her first season as an amateur boxer; she represented London twice, won 2 Danish Box Cup gold medals and won gold & silver medals at the Haringey Box Cup. She regularly had to box overseas when the opportunities to box in England were a lot more limited, she competed in Sweden, Denmark and Ireland.
Cherrelle Brown won the Female ABA's in 2012 in the Class C Category (Under 5 bouts) @ U63.5kgs. Brown was drawn in a straight final the year after in the Class B Category, however her opponent withdrew at short notice. Brown went onto win 3 National Elite Championship titles in a row (2015, 2016 & 2017) at U64kgs. Cherrelle represented England in international tournaments and shows and won Three Nations Gold & Silver Medals before turning over as a professional boxer.
Caroline Dubois became Islington's 1st ever-female schools champion when she won the National Schools Championship in 2015. She also won a gold medal in the Monkstown Box Cup tournaments in Ireland in 2014 & 2015. She has since gone onto win various national, European and World titles.
Hazel Gale transferred to IBC from Gator ABC to further her boxing career, she previously competed as an elite kickboxer. 'Gale-Force' won the clubs first National Elite Female title in the 2013/14 season @ U67kgs.
Valerian Spicer also moved onto Islington BC from Chadwell St Mary's ABC due to its growing reputation for female boxing and quality sparring it offered. 'The Dame' as she was known by competed for Dominica in various AIBA tournaments.
Amy Broadhurst became National Elite Champion in 2018 @ U64kg, her victory meant that the Light-Welterweight Female title stayed at Islington for 4 years following from Cherrelle Brown's 3 back to back wins. Broadhurst is a 20-time National Irish Champion and regularly competes for Ireland competing at 60 & 64kgs. In 2022, Broadhurst won the IBA World Championship in Turkey.
In 2018, Jem Campbell joined Islington Boxing Club and has since become the boxer with most domestic titles.
Rachel Holifield, Charlotte Briant, Bobbi Lee-Wyatt, Natasha Gold, Natasha 'Nutty' Rhoden, Amy Broadhurst, Sunni Torgman, Jem Campbell, Tesssa Jones, April McNamara, Ailsa Mullins, Beth Tyler, Kesanna Bryan and others have won gold medals for IBC in International Box Cup tournaments.
IBC now have one of the largest female boxing team in the country that are currently carded and others coming through their academy ranks.
IBC Novice/ Development Champions
In recent years the club has had senior and junior novice champions and finalist. In the early 1990's, Gabriel 'Gibble' Foley, Josie Farrell, Michael Brown and others were London Novice Champions in the early days of the competition before it became a National Championship. Former WBU World Champion, Colin Dunne was also a London Novice champion during his time as an amateur with IBC.
Garv Krasniqi was a National Junior Novice champion in 2007 and Anthony Ward was a National Junior Novice finalist in 2009. Lightweight (60kgs) Darren Ballinger was a National ABA Senior Novice finalist in 2009.
Jordan Grannum won back-to-back National ABA Senior Novice championships in January and December 2011 winning Class A (under 10 bouts) and Class B (under 20 bouts) titles at Welterweight (U67kg).
Aarron 'The Marksman' Morgan won the Middleweight (U75kg) Class B Senior Novice crown in December 2011.
In 2012, Jermaine Kelly won the Class A Cruiserweight (U86Kg) title; whilst teammate Scott Smart was as runner up in the U51kgs, Class A final.
In 2014, Sherif 'The Sandman' Musah and Scott Smart both won the renamed Senior Novices Championship, Sherif won the Light-Heavyweight (U81kgs), Class B England Boxing Development Championship whilst Smart won the U52kgs, Class A title.
Jerome Campbell (U60kg, Class B) was a National Development finalist in 2016.
Charlotte Briant became a National Development Champion at U75kg in 2017, teammates Amy Pu (U60kg, Class B) and Sunni Torgman (U57kg, Class A) finished as runners up.
Laura Weis (U54kg, Class A) & Masood Abdullah (U60kg, Class B) became National Development Champions in 2018. Lina Dhayatkar (U51kg, Class A), Sunni Torgman (U60kg, Class B), Slavisa Gegic (U69kg, Class B), Chris Cunningham (U75kg, Class B) and Charlotte Briant (U75kg, Class B) finished as runners up in the national finals.
In her 3rd appearance in the National Development Championship finals, Sunni Torgman (U60kgs, Class B) won via stoppage in the 2019 tournament. Teammates Tessa Jones (U51kg, Class A) and Ruhel 'Bob' Miah (U56kg, Class B) both lost on 3-2 split decisions.
Club Accolades
In February 2010 the club was awarded the 'Mayor's Civic Award' which is a community award for making Islington a better place.
Ron Hagland picked up the 'Sport Islington Volunteer of the Year Award' after nearly 40 years of volunteering in July 2010.
The club was awarded the accolade of 'Sports Islington Club of the Year' award in July 2011.
In July 2010 Islington Boxing Club became the first amateur boxing club in London to achieve ABAE Club-mark Accreditation. Club-mark is the only national cross sports quality accreditation scheme for clubs with junior sections. It is built around a set of core criteria which ensure that accredited clubs operate to a set of consistent, accepted and adopted minimum operating standards.
Ron Hagland received a 'Platinum Keystone' award from the Essex Boys & Girls Club association for his 40 years' voluntary service to Islington Boxing Club.
Lenny Hagland received the 'Islington Mayors Civic Award' in early 2015 for his work with the club. Lenny was also awarded the Henry Cooper Award for dedication in boxing and the community at Norwood and Paskin Children's Trust charity boxing dinner in 2016.
Long serving coaches Jerry Mitchell and John 'JR' Richards both received awards from Essex Boys & Girls Club for their voluntary work with the club in 2015.
The Club outside of the ring
In June 2012 the club changed its charity name from 'Islington Boys Club' to 'Islington Community Sports Academy'. The club also became a limited company with charitable status to protect the trustees against personal liability recommended by the socialites of the club.
The gym is often used for filming for music videos, films and television and has also become more popular with photographers in the recent years.
IBC regularly travel aboard to box on shows, tournaments and rep matches. In recent years Islington boxers have been privileged to visit South Africa, Ireland, Germany, France, Switzerland, Denmark, Sweden and more. Younger boxers over the years have traveled for adventure weekends at locations across the country and Europe including Spain, France, the Lake District and Hindleap Warren to name just a few.